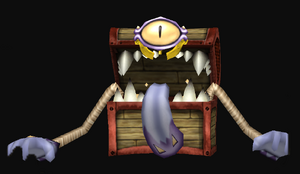 The King Mimic is an enemy from Dark Cloud and Dark Cloud 2, and the bigger version of the Mimic. Along with the Mimic, it appears in every dungeon, only less frequently.
For quotes, see Steve's Quotes or Monster Quotes.
Battle Tactics
Edit
Dark Cloud
Edit
The King Mimic springs from large chests that usually house weapons or the Happy Clown. It is a very dangerous foe, but is very rare to find. Making single hits and running away is a good technique early on, but if possible, use a ranged weapon with high attack power, or use items if the situation becomes very bad.
Dark Cloud 2
Edit
The King Mimic in Dark Cloud 2 has been integrated to follow the no-more-big-chest rule of the game. Instead, it makes a roar and grows in size very quickly. The King Mimic changes in appearance every dungeon, adapting to the chests of the level.
The King Mimic has three attacks: The first is a single bite that does low damage and cannot pierce through a player's guard, but is fast and deals poison. The second is a lick using its large tongue. The attack is slower and still does not break the players block, but does damage and causes thirst. The third attack is a slap using its large hands. This attack doesn't cause any status effects, but it pierces through a player's guard and will cut health in half if it's not avoided or dodged.
The best way to deal with King Mimics is with the Ridepod equipped with a ranged weapon. If the Ridepod is unavailable, an effective tactic is to get the King Mimic into an open area and try to stay behind it. Wait for it to do its clap attack and then land a combo. Once you hit it with the combo finisher, IMMEDIATELY dodge back (tilt the control stick away from the King Mimic and press X) and repeat the process. Chances are that the King Mimic will be in Rage Mode at this point, so taking extreme caution is advised.
Monster Notes
Edit
Dark Cloud
Edit
Dark Cloud 2
Edit
| Dark Cloud 2 | King Mimic | King Mimic | King Mimic | King Mimic | King Mimic |
| --- | --- | --- | --- | --- | --- |
| Habitat | | Rainbow Butterfly Wood | Starlight Canyon | Ocean's Roar Cave | Mount Gundor |
| Type | Magical Creature | Magical Creature | Magical Creature | Magical Creature | Magical Creature |
| Hit Points | 150 | 250 | 400 | 600 | 750 |
| Attack/Defense | 14/7 | 21/15 | 38/20 | 51/40 | 61/50 |
| ABS/Gilda | 10/12 | 16/18 | 38/20 | 40/40 | 120/68 |
| Weakness | Flame (150%), Smash (250%) | None | Lightning (150%), Smash (250%) | Chill (150%), Smash (250%) | Chill (150%), Smash (250%) |
| Effective Weapons | Beam (150%) | None | Beam (150%) | Beam (150%) | Beam (150%) |
| Ineffective Weapons | Gun (50%), Grenade (50%) | None | Gun (50%), Grenade (50%) | Gun (50%), Grenade (50%) | Gun (50%), Grenade (50%) |
| Item Inventory | None | None | Rolling Log | None | None |
| Dark Cloud 2 | King Mimic | King Mimic | King Mimic | King Mimic |
| --- | --- | --- | --- | --- |
| Habitat | Underground Water Channel Star Path | Rainbow Butterfly Wood Star Path | Starlight Canyon Star Path | Ocean's Roar Cave Star Path |
| Type | Magical Creature | Magical Creature | Magical Creature | Magical Creature |
| Hit Points | 730 | 800 | 800 | 800 |
| Attack/Defense | 77/57 | 84/70 | 85/65 | 84/65 |
| ABS/Gilda | 146/78 | 160/78 | 160/78 | 160/78 |
| Weakness | Flame (150%), Smash (250%) | Lightning (150%), Smash (250%) | Smash (250%) | Smash (250%) |
| Effective Weapons | Beam (150%) | Beam (150%) | Beam (150%) | Beam (150%) |
| Ineffective Weapons | Gun (50%), Grenade (50%) | Gun (50%), Grenade (50%) | Gun (50%), Grenade (50%) | Gun (50%), Grenade (50%) |
| Item Inventory | None | None | None | None |
| Dark Cloud 2 | King Mimic | King Mimic | King Mimic |
| --- | --- | --- | --- |
| Habitat | Moon Flower Palace | Zelmite Mine | Zelmite Mine Depths |
| Type | Magical Creature | Magical Creature | Magical Creature |
| Hit Points | 1300 | 7000 | 11700 |
| Attack/Defense | 117/80 | 142/92 | 182/130 |
| ABS/Gilda | 200/112 | 300/90 | 600/88 |
| Weakness | Smash (250%) | None | Smash (250%) |
| Effective Weapons | Beam (150%) | Beam (150%) | Beam (150%) |
| Ineffective Weapons | Gun (50%), Grenade (50%) | Gun (50%), Grenade (50%) | Gun (50%), Grenade (50%) |
| Item Inventory | None | None | None |
Variation Gallery
Edit
Additional Images
Edit