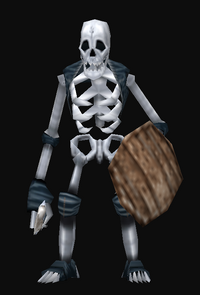 The Skeleton Soldier is a monster encountered in Dark Cloud and Dark Chronicle. It appears in the first floors of Divine Beast Cave and Rainbow Butterfly Wood, respectively. As the name suggests, it is a skeleton that wields a Dagger exactly like Toan's, and a small wooden buckler-sized shield.
There are several other types of this enemy in both games, the infamous Master Jacket being one variation, wielding a Gladius and shield, and wearing a stylish green-orange jacket. In Dark Cloud 2, the Rare Jacket is a boss version of the Skeleton Soldier, appearing as a group in the Zelmite Mine dead end.
For quotes, see Steve's Quotes or Monster Quotes.
In Dark Cloud, the Skeleton Soldier has two attacks: A horizontal swing and a vertical chop. These attacks are fast but weak, and have no block breaking ability. The Skeleton Soldier has a special ability that it shares with its variants: it can revive itself after being defeated, with a small amount of hit points being returned to the monster. Weapons with high Holy element and Undead stat are recommended, making the Gladius a perfect weapon for dealing with this monster. But regardless of weapon, the Skeleton Soldier is easily eliminated.
It appears for many floors in numbers in Divine Beast Cave, until the Master Jacket arrives to replace it around the same time Xiao becomes available to recruit. On Floor 4 of the Divine Beast Cave, you fight your first Duel against the Master Jacket. Unlike the Skeleton Soldier, the Master Jacket will block your attacks more often thanks to his shield, so don't get too trigger happy when using ranged characters. Otherwise, it is just a stronger version of the Skeleton Soldier.
In Dark Cloud 2, the Skeleton Soldier retains its abilities, like guarding and its self-revive ability. The best way to defeat one is to approach it while guarding or with a charged attack at the ready. The second method is especially effective when done by Max, since the Skeleton soldier and its variants tend to be weak to the Wrench/Hammer, and given that Max's charged attack damage scales better than Monica's. If you approach while guarding, wait for it to do the horizontal slash, then combo it with your character's melee weapon. The first hit won't faze it, but the second and every subsequent hit up to the finish will make it flinch. The combo finisher will knock it over. While it's on the ground, get close enough to combo it again. Once it's caught in your chain of combos(or charge spam), it will die easily, as will any of the Skeleton Soldier's variants.
Section incomplete
This section is empty or needs to be expanded. You can help the
Dark Cloud
Wiki by
writing it
.
Image needed
This article or its infobox is missing one or more images. You can help the
Dark Cloud
Wiki by
uploading
one.
Community content is available under
CC-BY-SA
unless otherwise noted.